Access Requirements
Having access to a computer with internet access and a university account from the Data Center (ZDV) are requirements for using the online portal JOGU-StINe.
University employees will generally get their university account upon starting their position. For more information, please see the Zentrums für Datenverarbeitung (ZDV).
Visiting researchers, project staff and external users can also apply for a university account under some conditions. In this case, please also see Webseite des ZDV.
Portal Registration
To log in to JOGU-StINe open the web page https://jogustine.uni-mainz.de/ in your browser.
Login
First, go to the JOGU-StINe start page and click on "log in".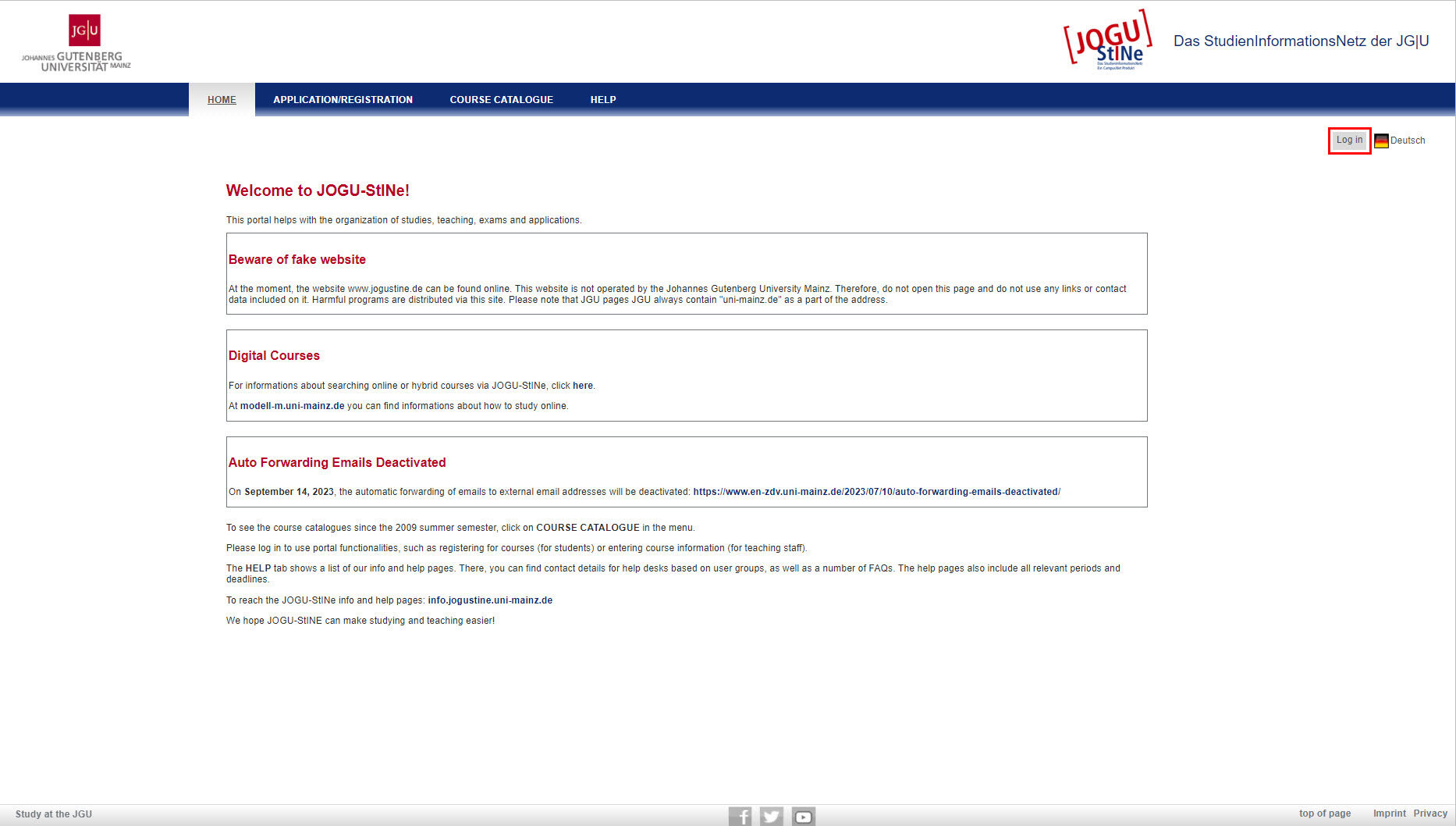 In the next step, you will see a new login mask. This is divided into a left side and a right side

The right side is the login for anyone who does not yet have a JGU account (e.g. applicants who are not yet enrolled at JGU).
The left side is the login for everyone who has a valid JGU account (e.g. students, doctoral candidates, lecturers, staff).
By clicking on the button on the left side, you will be directed to the general JGU login page (login.uni-mainz.de), where you can enter your JGU username and password as usual.

Please note that your password is case-sensitive, so make sure to pay attention to your use of capital letters.
Subsequently, you will be directed to the JOGU-StINe page you are used to.
After 30 minutes of inactivity, you will be automatically logged out of JOGU-StINe. Still, it is important to remember to properly manually log out of JOGU-StINe.
If you still are unable to log in after entering the correct username and password, check to see if your university account is working. For this, please open the following webpage: https://account.uni-mainz.de. Enter in your username and password here and check the status of your account. If you are able to log in without a problem, then your account is working. After checking the status of your account, please get in touch with the responsible Studienbüro.